Creating your dream kitchen
Find out how we can create your dream kitchen with our fully qualified interior designers, trained to design your lifestyle, maximise your storage and spatial needs, and create stunning kitchens with your budget in mind.
A Kitchen to fit your lifestyle
High quality kitchens for your home
The Kitchens & Interiors showroom is located in historic Pinner, 3 minutes from Pinner Tube station, 25 minutes from Baker Street, central London via the Metropolitan Line.
Pinner is a suburb in the London borough of Harrow, Greater London, England, 12 miles (19 km) northwest of Charing Cross, close to the border with Hillingdon, in the historic county of Middlesex.
Originally a medieval hamlet, the St. John Baptist church dates from the 14th century, and other parts of the historic village include Tudor buildings. The newer High Street is mainly 18th-century buildings, while Bridge Street has a more urban character and many chain stores.
Tailored for your lifestyle
As technology advances, more and more people are tailoring their lifestyles around the home. The kitchen is being homogenised with the living space. Modern living has made the kitchen the heart of the home for family occasions, entertainment, and general socialising.
Our highly experienced interior designers will design the space from scratch to ensure your space is maximised for functionality, style, design, and price to suit every budget. We offer a free design service with no obligations to buy from our highly qualified interior designers.
We believe in selling only the highest quality products, which is why we have teamed up with Germany's best brands. For German kitchens, we offer Next 125, Schuller, and Nobilia.
Next 125 is a very competitively priced premium brand offering real wood finishes and high-quality lacquer finishes to a wider market but not at inflated prices.
Schuller is a mid-end brand offering contemporary finishes and Shaker doors at a price that is affordable to all.
We also offer Nobilia as our entry brand for clients who want quality German kitchens at low prices.
Kitchen Interiors Collections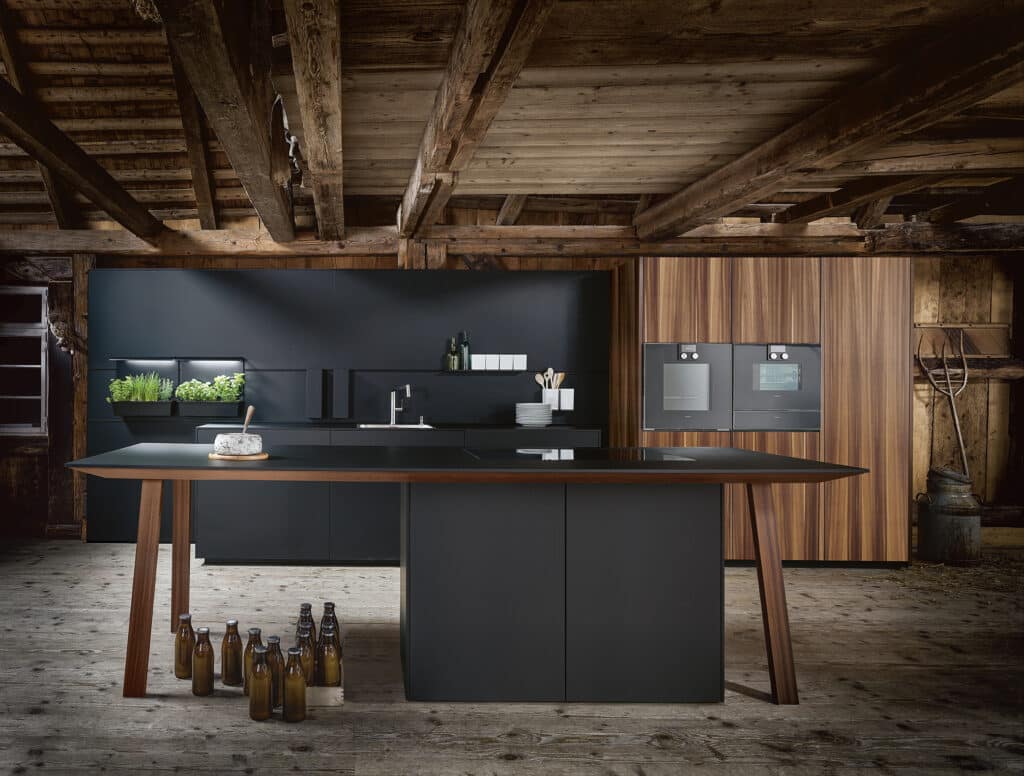 Exceptionally elegant kitchens, for those who appreciate precision workmanship and quality materials. Next 125 Kitchens are elegant, functional, minimalist, and technological.
Available in a range of bespoke high-quality finishes: glass-fronted doors, real wood veneers, ceramic fronts, matt, satin, and high-gloss lacquer finishes.
Only the best-quality mechanisms are used in this range. A premium range without premium prices.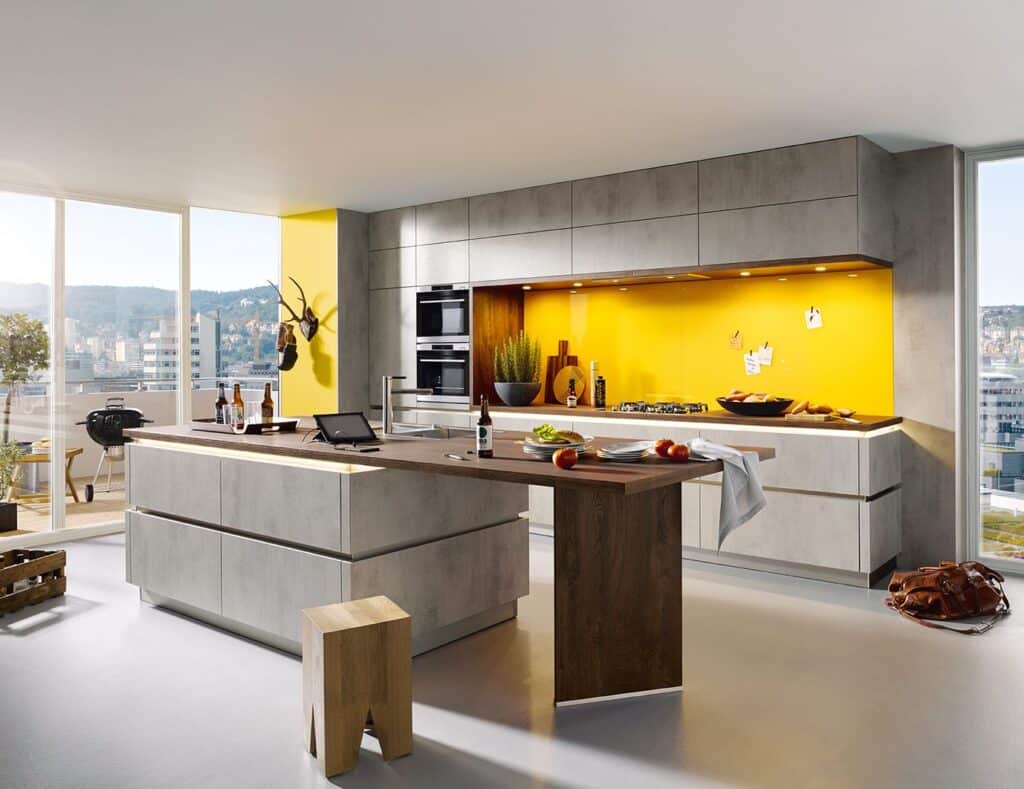 Schüller is among the top 3 German kitchen furniture manufacturers; our kitchens are aimed at the mid-market with variable budgets. We can compete with U.K. manufacturers like Howdens and Wren, but with far superior German build quality.
The carcasses used in Schuller kitchens are the same as those supplied for the Next 125 range, so this is a far superiorly constructed unit with highly quality runners and hinges. Door fronts are available in laminates, different types of lacquers, glass fronts, and a wide range of painted shaker doors.
With over 75 years of trading history, our entry-level German brand offers high-quality kitchens at affordable prices. Modern and traditional styles are available in all finishes, with a very broad range to complement all designs. Prices start from approximately £6,000 to £7,000 for units, sink and tap, worktops, and the range of appliances Nobilia offers. 
Our design team will ensure your price is optimised to your satisfaction. Nobilia offers unbeatable range value and quality, and we will ensure we are not beaten on price with high street retailers.
Integrated downdraft extractors that draw the smells through and out under the kitchen floor by using a powerful air extraction motor. With Bora, you will not need ceiling extractors. A quality system designed for ease of use can be fitted flush to the worktop for a minimalistic look. 
Bora can be put together in different combinations to suit your lifestyle.
If you're looking for a system that is quieter than conventional extractors, this is the one for you.
Find out more from our designers.
Daval Bedrooms are manufactured in Yorkshire, using only the finest materials and cabinetry made from sustainable materials certified by the FSC. Made-to-measure bedrooms utilise all available space to create a designer bedroom that is functional and practical. 
Storage and Accessories
Why not complement your wardrobes by adding our quality accessories, pull-out shoe racks, pull-down rails for hard-to-reach areas, and many more options?
Our interior designers will plan your space to suit your lifestyle; why not ask for a no-obligation quote today with our bedroom experts?
Quality sliding door solutions for bedrooms, living rooms, and studies.
Volante sliding doors are sleek and stylish and can be made to measure in a broad range of sizes. Volante sliding doors come with a huge range of panels to suit every taste.
a quality, durable product at affordable prices.
Book an appointment now with our bedroom expert.
FREE QUOOKER TAP WITH EVERY KITCHEN ORDERED
(Offer Ends 5th December 2023, TERMS & CONDITIONS APPLY, ASK IN STORE FOR FULL DETAILS)
Our new kitchen was installed by Mobalpa Pinner in 2016. This replaced our previous Mobalpa kitchen which still looked good after 30 years.

We were very pleased with the sales and installation service for the new kitchen. We recently decided to replace the oven and got excellent advice on this from Mo at Pinner so even after 7 years the after sales service is still first class.

This advice saved me a lot of digging around on the internet and made sure I got the right oven. Well done Mobalpa Pinner on all fronts.
I guess I better confirm that if not for Mo, we would have gone elsewhere!

In terms of costs comparison local competitors were higher in price. Mo and Magda were just a better team to work with in our comfort level, and we pretty much knew that from our initial drop into the store and we had no knowledge of the brand nor their range.
Unless you have that feeling, irrespective of price or range in styles, we would have gone elsewhere.

Their customer service is what separates them from their competition. Cheers.
Hi Mo, Just a quick note to confirm that the splashback has been replaced.

The whole "operation" was much faster , cleaner and tidier than I had anticipated, plus the colour match for the new splashback was spot-on.

The guys dealing with the splashback were professional, polite and certainly knew their job, plus the intervention from the ever-excellent Val - in short, thank you very much for all your help and organisation .... it is much appreciated.

Once again, thank you.
We've enjoyed the project too and we're delighted it's finally come to fruition although it's a hell of a lot easier to say this in retrospect!

There were highs (quality of design, your customer service, Andy's readiness to scale fences) and lows (finger slicing episode, ordering mishaps, Neff shenanigans), as can be expected, but both you and Andy have been outstanding in your dedication and commitment to the project.

The pull-out table has really given us a huge amount of flexibility with the space and has been a real talking point for visitors.
We'd be happy for the kitchen to feature in a magazine as long as we get copies of the professional photos!
We visited a lot of kitchen showrooms in London including most of them in Wigmore Street W1. When visited Mobalpa in Pinner after we met Mo, the owner, we immediately knew, this is what we are looking for! A personalised bespoke service and not a standard salesman. Mo visited our home several times to get a real feel of our kitchen and surrounding rooms.

Lots of planning went into It and in the end we signed on the dotted line for approx £20,000. The installation went extremely well and on time. I was particularly impressed with the fact that even though the fitter was sub contracted out like most kitchen retailers do, Mo visited our home every day to check on the fitting like if the fitter was a direct employee.
We had a two tone kitchen with a red granite skirting which looks amazing. Lesson to learn is no need to go to the big expensive shops in Wigmore Street when people like Mo are local to you in Pinner at half the price. Well done MO!
Absolutely thrilled with our beautiful chic kitchen designed by the very talented Magda.

Magda and Mo have both been very helpful and given us our dream kitchen.

They were very patient and spent alot of time with us finding out about us and our lifestyle and then designing the kitchen accordingly.

Would definitely recommend them.
We had a fantastic experience using Mobalpa Pinner for our kitchen as part of our overall G/F extension and renovation project at our home.
We approached Mobalpa and initially set up a design meeting with Magda. As soon as we had our first meeting, we had such a great experience that we didn't go any further to other suppliers (either for different designs or for "price shopping"). I am sure we could have gone to other suppliers for a better price but it wasn't worth the effort when we got first rate service from the Mo and Magda at Mobalpa pinner.

They were honest and kept us informed of the delivery schedule and potential delays if we made certain product choices (as they were coming from a third-party supplier in Spain/Italy which would delay our overall installation). They delivered on time as promised and their fitter did an excellent job to fit on time. Overall, we had a super experience with Mo and Magda at Mobalpa Pinner and we can't recommend them more.


BOOK A NO OBLIGATION APPOINTMENT WITH OUR DESIGN TEAM
We are thrilled to extend to you an invitation to book an appointment with our highly skilled and experienced design team.
We understand that embarking on a home improvement project can be a daunting task, but our team is equipped to guide you through the process every step of the way.
Discover Our
Most Popular Products